GM Nadya Kosintseva

GM Nadezhda "Nadya" Anatolyevna Kosintseva was born in Arkhangelsk, Russian in 1985, and became a grandmaster in 2011. Winner of the European Youth Chess Championship, Nadya took gold medals in 1995 (Girls Under-10, Verdun), 1997 (Girls Under-12, Tallinn) and 2000 (Girls Under-18, Kallithea). In 1998 at the World Youth Chess Championship, she took the gold medal in the Girls Under-14 event. In 2006….more on GM Kosintseva…
FIDE: 2483
TITLE: International Grandmaster
GM Leonid Kritz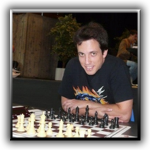 GM Leonid Kritz was born in Moscow, Russia, in 1984. He started playing chess at age of 4, at Spartak Moscow Chess School. Kritz was Youth World Champion under 16 in 1999, and became a grandmaster  in 2003, at the age of 19 years.  He participated at the FIDE World Cup in 2004, and represented Germany at the Chess Olympiad 2004, and the European Team Championships 2005 and 2007.   Co-winner of SPICE Cup 2008… more on GM Kritz…
FIDE: 2612
TITLE: International Grandmaster
IM David Vigorito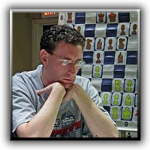 IM David Vigorito was the 2007 Massachusetts Champion, as well as the state champion of New Hampshire and Nevada.  He was the Champion of the Boylston (Boston) Chess Club, with a USCF rating of 2479. David played in the 2006 U.S. Championship after finishing in a tie for 3rd place at the U.S. Open in Phoenix.  He is a successful chess author – his Challenging the Nimzo-Indian has been very well received by critics and players alike, and his recently released… more on IM Vigorito...
FIDE: 2400
TITLE: International Master
GM Bryan Smith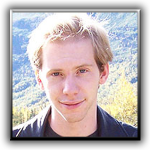 GM Bryan Smith grew up in Anchorage, Alaska, and currently splits his time between Novi Sad, Serbia and Philadelphia, Pennsylvania. Some of his accomplishments include first place in the 2008 National Chess Congress, 2009 National Chess Congress, 2010 Philadelphia International, and 2011 Limpedea Cup. He was on the national champion UMBC chess team from 1999 to 2001. Bryan is the highest rated player ever from… more on GM Smith…
FIDE: 2474
TITLE: International Grandmaster
GM Jesse Kraai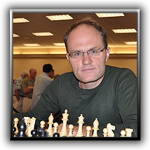 GM Jesse Kraai currently resides in Berkeley, California. His most notable chess achievements are winning the Denker Tournament of High School Champions in 1989 and 1990, and competing in the US championship from 2002-2006. Jesse received his final GM norm at the Foxwoods Open 2007 and has a Ph.D in Philosophy from the University of Heidelberg.   In 2013, Jesse  published Lisa, a chess novel and has now returned to playing, winning his…  more on GM Kraai…
FIDE: 2526
TITLE: International Grandmaster
IM Bill Paschall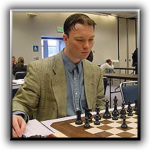 IM Bill Paschall currently resides in Budapest, Hungary. Bill was the Boylston Chess Club Champion 2002, finished 1st at the Foxwoods Open 2002, Two-Time New England Open Champion, and has defeated more than 20 IGM's in tournament play. Bill has extensive experience training both adults and children privately… more on IM Paschall…
FIDE: 2386
TITLE: International Master
IM Valeri Lilov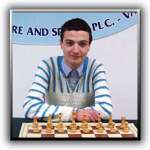 IM Valeri Lilov is a young chess talent from the small European country of Bulgaria. He is based in Varna, Bulgaria and has been working as successful chess coach and lecturer over the internet for more than seven years. In 2000 in Moscow, Russia, he became the European Individual School Chess Champion U10 with the record result of 6,5 out of 7. In 2005, he made a record in the history of Bulgarian chess by achieving 32 consecutive wins from national championships, which included… more on IM Lilov…
FIDE: 2434
TITLE: International Master
LM Dana Mackenzie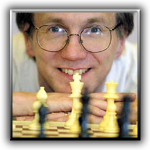 LM Dr. Dana Mackenzie is a USCF Life Master, a PhD mathematician, and an award-winning mathematics and science journalist and author. LM Dana Mackenzie started playing tournament chess during the "Fischer boom" of 1971-72 and for some reason never quit. He was the champion of North Carolina in 1985 and 1987, and became a master in 1988.  Mackenzie now lives in Santa Cruz, CA and runs a chess club …more on LM Mackenzie…
FIDE: 2112
TITLE: Life Master (USCF)
IM John-Paul Wallace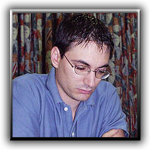 IM John-Paul Wallace is from Sydney, Australia currently residing in London, England. John-Paul was the youngest Australian Chess Champion ever at the age of 17 in 1993-94. John-Paul has also won the 2003 Pratt Foundation Australian Open Chess Championship and has represented Australia in two chess Olympiads. John-Paul is a chess journalist and a chess coach for students online and over-the-board.  Feel free to contact John-Paul on johnpaulwallace@gmail.com or read more at http://www.wallacechess.com
FIDE: 2398
TITLE: International Master
FM Dennis Monokroussos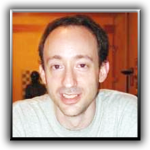 FM Dennis Monokroussos is a 3-time Nevada State champion and won the Indiana State Championship in 2009. He taught philosophy at several universities, including the University of Notre Dame, and currently works as a chess coach for kids and adults, both in person and over the internet. He was coach of a team that won the 1997/8 National K-8 Championship and came within half a point of repeating the next year as well. His individual students have been successful and include scholastic state… more on FM Monokroussos…
FIDE: 2281
TITLE: FIDE Master
GM Eugene Perelshteyn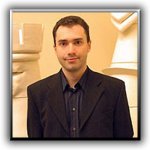 Eugene Perelshteyn was born in Ukraine and learned chess from his father, a FIDE Master. He moved to the United States at the age of fourteen and won the U.S. U18 Championship in 2000. Eugene earned a chess scholarship from the University of Maryland, Baltimore County, where he graduated in computer science. In 2002 he was awarded the Samford Chess Fellowship – given to the top American Player under 25 years old – which helped him earn the GM title in 2006. He currently… more on GM Perelshteyn…
FIDE: 2542
TITLE: International Grandmaster
GM Roman Dzindzichashvili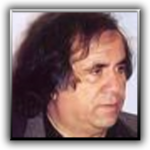 Born in Tbilisi, Georgian SSR Roman won the Junior Championship of the Soviet Union in 1962 and the University Championships in 1966 and 1968. In 1970, he earned the title of IM. He earned the GM title in 1977. In 1980, he won the Lone Pine tournament. He led the1984 U.S. Olympiad team. One of his best was first place at The 53rd Hastings Chess Festival in 1977 / 1978. He won the U.S. Chess Championship in 1983 , 1989. He was in the film Searching For Bobby Fischer. A well-known theoretician and a chess coach. Among his students are 3-time US Chess Champions GM Gata Kamsky, and GM Eugene Perelshteyn.
FIDE: XXXX
TITLE: International Grandmaster

IM John Watson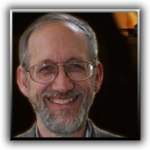 IM John Watson: is a well respected chess author with over 21 books to his credit. John's book "Secrets of Modern Chess Strategy" won BCF Book-of-the-year, and the 1999 Cramer Book-of-the-year award. John is a well respected chess trainer in the United States. His student Tal Shaked won the 1997 World Junior Championship.
FIDE: XXXX
TITLE: International Master
IM Attila Turzo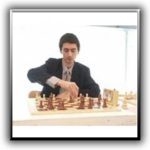 IM Attila Turzo currently resides in Hungary. Attila's his achievements are 1998 Hungarian Junior Champion and earned his IM title in 1997. Attila also won the First Saturday Chess Tournament in May 2004. Turzo is a professional chess coach.
FIDE:XXXX
TITLE: International Master


IM Mark Diesen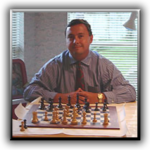 IM Mark Diesen earned the International Master title in 1976 by winning the World Junior Champtionship at Groningen, ahead of such noted players as Lubomir Ftacnik and Oleg Romanishin. It was the first time an American had won the World Junior since William Lombardy in 1957. Other achievements included being Louisiana State Champion in 1986, 1987 and 1988. Diesen was a player with a positional style that made him a difficult opponent to face for even the most experienced IMs and GMs.
FIDE: XXXX
TITLE: International Master
GM Josh Fridel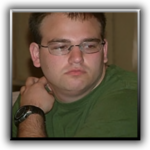 GM Josh Fridel achieved the National Master rating at age 13 and gained his IM title in August of 2005. His tournament victories are many, including the 2001 Pan Am Open, and the 2005 Queen City Open. Josh earned his first GM norm by winning the Berkeley Masters tournament in 2005. Josh became a Grandmaster in 2008 Josh continues to play in chess tournaments around the globe.
FIDE: XXXX
TITLE: International Grandmaster