August 21, 2017 | Posted in Chess Lectures | By Susan Manley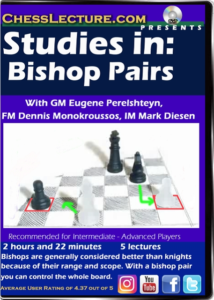 Recommended for Intermediate – Advanced Players
Presented by: GM Eugene Perelshteyn – FM Dennis Monokroussos – IM Mark Diesen
Content: 2 hours and 22 minutes of instruction and analysis in a series of 5 Lectures.
More experienced players understand the power of the bishop.
A pair of bishops is decidedly superior to either a bishop and a knight, or two knights. A player possessing a pair of bishops has a strategic weapon in the form of a long-term threat to trade down to an advantageous endgame.
Two bishops vs king can force checkmate, whereas two knights cannot. A bishop and knight can force mate, but with far greater difficulty than two bishops.
Here our masters outline successful strategies for employing bishop pairs.
Members of ChessLecture.com rated this series a 4.37 out of 5
ECO D15, E33, E38 PGNs Included
Fans on Chesslecture.com said: I have watched more than 1260 lectures on this site. In my opinion this is one of the very best. Thanks for an instructive gem!!! ChessLecture is the world's largest video archive of Chess Instructional videos by our proven masters and educators.