October 2, 2014 | Posted in Chess Lectures | By Susan Manley
Opening Trends 3: The Catalan
by IM David Vigorito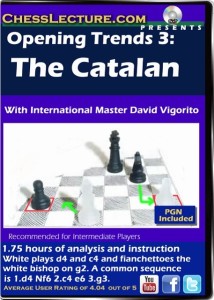 Recommended for Intermediate Players
Opening Trends is an exciting series where IM David Vigorito examines how tournament chess is changing, nuances in the game are coming into play and exciting trends are being set.
The Catalan opening is where White adopts a combination of the Queen's Gambit and Reti Opening White plays d4 and c4 and fianchettoes the white bishop on g2. A common opening sequence is 1.d4 Nf6 2.c4 e6 3.g3, The Catalan derives its name from Catalonia—a nation inside of Spain. Used by Kramnik three times in the World Chess Championship in 2006, the Catalan has recently gained a good deal of attention by high-level GMs. The Catalan was also played four times by Anand in the World Chess Championship in 2010 in both instances the opponent was Topalov, See that game and others explained in this DVD.
Content: 108 minutes of instruction and analysis in a series of 4 lectures.   PGN included
Members of ChessLecture.com rated this series a 4.04 out of 5   ECO E06, E08

Members of ChessLecture said: A very useful "Starter- pack" on the Open Catalan! Many Thanks!

IM David Vigorito is the 2007 Massachusetts Champion and has been the state champion of New Hampshire and Nevada. USCF rated at 2479, David was the Champion of the Boylston (Boston) Chess Club. He played in the 2006 U.S. Championship after finishing in a tie for 3rd place at the U.S. Open in Phoenix. David is a successful chess author – his Challenging the Nimzo-Indian is very well received by critics and players alike.